1. YouTube Channel

Starting a YouTube channel is the easiest way to make money online and it doesnot require any investment.
Youtube recives almost 5 billion video views er day, which proves its strength on the internet.
Felix Kellberg, the owner of PewDiePie (a YouTube accung), earned $12 million in the year 2015 with one YouTube channel.
You too can see such success if you respond to the opportunity that YouTube offers us at the moment.
Suitable for:
People who like to make videos, like to talk to a camera, record documentaries or short films.
Required Skils
Basic video edition software tools or record a vieo with your mobile phone or camcorder.
Time needed to start a YouTube Channel:
Almost you can start within a few minutes. You must visit YourTube.com and create a channel and start uploading videos.
Tips:
Create a Youtube channel around specific topic, such a Humor, Tutorial, Food Recipe etc. Do not ust drop out any random channel with unrelated vieos.
If you like gadgets, you can create a channel with gadget ratings where you can post review videos of the latest gadgets and help people decide if it's a right choice for them.
Select a theme in which you are really interested. Analyze other videos related to your topic, see how many views these videos get.
It will help you to get an overview of how many people are interested in your Niche.
In general, the views are more advantageous for the Niche. As more people search for it. Check if there is a missing concept in the videos that are currently available with regard to your Niche.
More concepts will build up as you go on making videos.
Give your best to get in touch with your audience. Review comments that people leave in your videos, learn the hidden expectations your audience has of you. Try to find out what they like about your videos and what they do not. Research which videos get the highest retention rate and look for the reasons behind them. Study your competitors and try to model the things that work for them. But never try to copy them, always retain your individuality. Always try to improvise every new video from the previous one.
So if you watch your first videos after a few years, you should think aww how bad I was before.
That is a good sign; it shows that you have improved.
Experiment, experiment and experiment. Never afraid of getting failed. Failure is the step to success. Experiments are the only way to find new and exciting things that can increase your lead on your competitors.
Finally, try to collaborate with other YouTubers who do the same work.
Learn their strategies and mindset. Working together can do wonders for your channel.
Have fun. Do the things you love and enjoy your life.
Generating revenue:
The general rule for generating revenue on YouTube is very simple. More views for your videos, more money you earn. You have to connet your youTube channel with the google adsense. You have to monitize your vieo after fulfilling your criteria. This is very simple step. You just follow the guidelines of google.
Happy Generating Money!
2. Start Blogging
Being a blogger is one of the easiest ways to make money at home. Unlike any other task, if you blog from home. You do not have to work 9-5. You can easily work at any time of the day.
But be careful with blogging, it takes time before it starts earning money for you. So I suggest you jump slowly into this field.
Strong suggestion for new blogger; If you have a day job, do not stop. Start part-time with your blog.
Once it is about where it gives you more than your comfortable limits, it is best to change to full-time blog mode.
Suitable for:
People who like to write and share their knowledge and expertise with the world.
Required skills:
The opportunity to express knowledge in a simple but effective way in writing.
Time needed to start a blog:
The time required depends on your expertise if you are an expert and you can easily start a blog within a few hours. For a complete beginner a day or two is enough to be ready with the basic configuration.
Tips:
Start a blog about something you are really good at. For e.g. If you like traveling and have traveled a lot, start a travel blog.
Always try to limit your blog to a certain domain. Do not post content across multiple domains in a single blog.
For e.g. Writing about recipe tips on a fashion blog
Keep your blog specific for one domain.
Try to create a very unique and phenomenal content with your experience and expertise. Try to give a lot of value to your readers. Write about something that will make a difference in the life of your reader. Listen to the readers of your blog. Try to solve the problems they are facing. Always respond to their comments. Let them feel better. Be committed to your blog. A blog is like a relationship. Give it some love and it will flourish. Ignore it and it will die a death.
It makes no sense to be half-hearted in your blog activities – if you do not care, why would anyone else?
Think of content, style, tone of voice, audience, etc.
Look at the people who are already doing what you plan to do. Ask yourself the following questions:
How will I stand out among the crowd?
What can I say that has not been said yet?
What is my unique selling point?
Why do I want to do this?
Be professional in the way you handle and grow your blog.
Do not criticize other brands, bloggers or people. Remember what goes around comes around.
You do not want something that you said to come back and bite you one day.
Be open-minded and willing to work with other creative people. You meet some amazing and awe-inspiring people.
Generating revenue:
You can monetize your blog by recommending products or services related to the topic of your blog by writing an informative article or placing banner ads on the relevant pages of your blog.
You can earn handsome commissions when someone buys a product you have recommended.
Another way is to place Google Adsense ands on your blog. More people click on your ads to earn more money.
3. Do Affiliate Marketing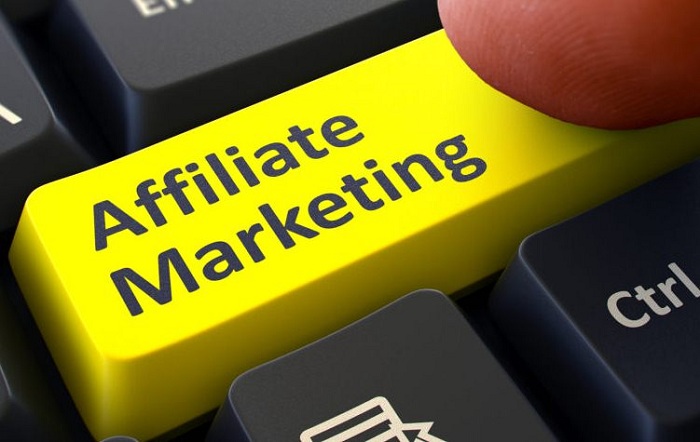 What is affiliate marketing?
Affiliate marketing is a kind of performance-based marketing where a company rewards a certain percentage of the commission for each product purchased by the customers who have been marketed by the company's own marketing efforts.
Suitable for
People who like to talk, write, explain and have the ability to convince.
Required skills:
Ability to promote online products using social media, videos, advertisements etc.
Time needed for starting affiliate marketing:
Almost within an hour. All you have to do is select an online product to pay a commission when you promote and sell it through your affiliate link.
Tips:
Select an online product from the domain you are familiar with. For example, if you are a dietitian, select a product related to a diet.
There are many products available in each domain, you only need to find a domain that is suitable for you.
Places to find products: Clickbank.com, Shareasale.com, Jvzoo.com. These websites have thousands of products from different domains. Choose a product that pays at least 50% commission for each sale. Most product websites handle the generic link generation and payouts, so you do not have to worry about how you get your commissions.
Just get your custom affiliate link created by the supplier and start promoting it.
If you want to make direct money with affiliate marketing, try promoting your affiliate link on social sites such as Facebook, Twitter, Digg, StumbleUpon and Reddit.
Generating revenue:
Generating revenue is easy, just make more people to buy the product through your affiliate link.
Create a Facebook page or Banner ads with the goal of promoting the product.
Tell people how the product will help them to solve their problems.
Improve people's knowledge about the domain and help them solve other related problems.
4. Create Niche Websites
What is Niche Website?
Niche Website is a small website aimed at a specific topic that shares all relevant information on the subject that is both useful and interesting for the target group.
A niche website can contain a few pages or even hundreds of pages, depending on the size of the niche.
Suitable for:
People who are interested in a very specific topic within a large domain.
For e.g. In a large area such as Yoga you can choose a specific subdomain, such as 'Yoga to lose weight'.
People who like to talk, write, explain and have the ability to convince.
Required skills:
The ability to create a Niche website based on a specific subdomain using WordPress, Blogger or other available software and tools. Possibility to promote a niche website using social media, advertisements, etc.
Time needed to start a niche website:
You can start a niche website within a day. But making good content for the website can take some time.
Tips:
Write down as many niche site ideas as possible, using the subdomain that interests you the most. Limit your niche idea based on finding the answers to the following questions:
What is the target size of your niche?
Is your audience known for spending money on the purchase of the niche projects?
Are there multiple products available that you view on your site?
Are there partner programs that generate more than 50% commissions?
What is your investment budget?
Create at least 10 articles with rich content that contain 1000 words, those articles offer great value for your specific target audience. Register for at least 2 affiliate programs that offer products related to your niche with more than 50% commissions. Perform keyword research and search for at least 15-20 niche-relevant search terms and try to rank your site for them. Try to network with the owners of the authority blogs in your niche and find opportunities for guest blogs.
Generating revenue:
Promote the products that are relevant to the topic of your niche website by placing affiliate links in the content and sidebar of your site.
Try to attract more visitors to your site through SEO, forum marketing, social media and paid advertising.
More people visit your niche site and buy products through your affiliate link, more money you earn.
How about creating 10 other niche websites with each site that generates $ 500 per month in an affiliated commission that would be $ 5,000 in passive income per month
5 . Sell a Video Course on Udemy
What is Udemy.com?
Udemy is an online learning marketplace.
It has a huge collection of courses in everything from programming to yoga and photography and much more.
You can create a course in text, audio and video formats. Each course is available on request and students can learn at their own pace, on their own time and on any device.
Suitable for:
People who like to teach, explain and solve problems.
Required skills:
Thorough knowledge of every domain of your choice. Ability to express knowledge in an easily understandable form. Ability to create and record high-quality videos.
Time needed to make a video course:
Depending on the size of the course, the number of modules and the time required for the preparation.
Tips:
Select a topic in which you are specialized. Study the courses that are relevant to your topic and see how many people are interested and who are actually enrolled for the courses.
This gives you an overall insight into the people who are interested in your subject and are willing to invest in your course.
Study the other available courses and discover the things you can offer that will make your course much better, different from other available courses. Identify your target audience level and then create the course content.
For e.g. You must first decide whether your course is for a beginners level or an expert level of experts.
Then, accordingly, you must create your course content that appeals to the right audience.
Make sure that the title and description of your course is optimized to appeal to your target group.
Try answering the frequently asked questions your audience asks in your course description.
Deliver at least 80% of your course in video format, because this is the most exciting way of interaction.
Also keep the length of each video lesson between 2-10 minutes.
Build up a relationship with the public and engage yourself. You can always do a quiz session between lectures to make it interesting and interactive.
Generating revenue:
Udemy gets a lot of daily visitors, so there is a good chance that your course will be noticed and that people register and that you will make money. You can even start a small blog about your course related topics and promote your course. More people sign up for your course more money that you earn